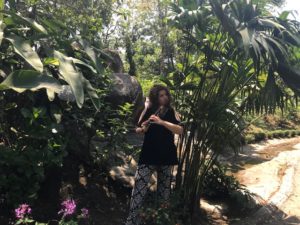 Monica was classically trained at the Eastman School of Music. She has studied with several esteemed flutists such as Bonita Boyd.
She has a passion for teaching students of all ages and levels as well as performing on a variety of concert and world flutes.
After graduating Monica found a deep love for the sounds of various world and hybrid flutes that called her to New Age music. It is a genre with classical, jazz and world music overtones that is intended to inspire, relax, and create optimism. In addition to C flute, her flute collection includes bamboo, Native American, pan, alto, and bass.
Her debut solo album 'Journey of Tears' received the Peace Song Awards people's choice award, the Bronze medal for the Global Song Awards, and placed in the top 10 of the ZMR Radio charts for two months in a row. Her new release 'Within Us All' has recently debuted at #3 on the Billboard New Age Music Charts! In addition it has been awarded a silver medal at the Global Song Awards. Monica also has an album 'Silence Between' of mainly classical music. The albums can be heard and purchased on any platform, and heard on many digital and analog radio stations as well as various airlines and Sirus XMs 'Spa' channel.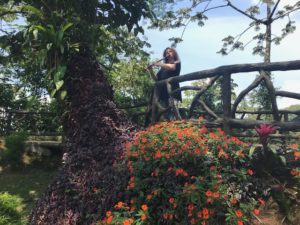 In addition to concert flutes Monica found a deep love for the sounds of various world and hybrid flutes. She loves warmth of tone on her collections as they invite a relaxing and calming meditational aspect to music. Currently she has about 70 flutes including Native American, Pan, Dizi, bamboo, and many hybrid flutes.
She co-founded the ensemble Phoenix Rising and is a freelance flutist for various groups and recording projects in the area. She currently has four CD's including 'Whispers' by Phoenix Rising, 'Ascension' by Phoenix Rising, 'Mystic Places' by Phoenix Rising, and 'In My Dreams Again' by Phoenix Rising can be heard on radio stations including 'Soundscapes' by Music Choice and 'Spa Channel' by SiriusXM.
Monica shares her love of music with the next generation at Contra Costa Music Guild and at the Community Arts Education in Walnut Creek where she teaches many students and is the director of Flock of Flutes. She also teaches in her home in San Francisco as well as online with the CCMG. Her students have been selected to perform at the Honor's Performance Series at Carnegie Hall, American Protege, High School and Junior High School All State Bands, Contra Costa County Honor Bands, All Northern Honor Band, District Bands, Berkeley Youth Orchestra, Oakland Youth Orchestra, Sunset Youth Orchestra, Young Person's Symphony Orchestra, and Cal Poly CA All State Band. In addition her students have won numerous awards including Command Performances at CMEA Solo and Ensemble, Finalist for the San Francisco International Flute Festival, Youth Focus Competitions, Royal Conservatory Music Development Program State and National Awards.
She is currently accepting new students. Please email monica@bayareaflutist.com to set up a free trial lesson.